You may donate monetarily to the Ninilchik Senior Center via our:
General Fund: supports daily services.
Endowment Fund: provides long term investment income.
$5 A Month Club: supports activities, entertainment, and miscellaneous that are not in the budget.
The Donor Tree Wall honors those who have donated to the Senior Center
Levels of Giving:
Tree Leaf:  $500. to $999. 

Ptarmigan:  $1,000. to $4,999.
Crane:  $5,000. to $9,999.
Owl:  $10,000. to $24,999.
Eagle:  $25,000 +
Donations may be made progressively over time.
THANK YOU FOR YOUR DONATIONS!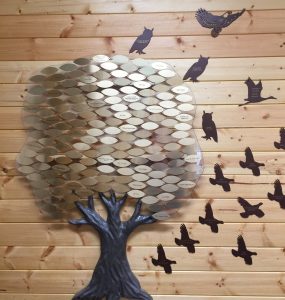 The tree was created by Ken Rucker and Geoff Olson in 2011.
Current non-monetary needs:
Copy paper, card stock paper, office supplies (pens, tape refills, paperclips, etc.)

Paper goods (cups, plates, napkins, paper towels, foil, plastic wrap, Ziploc bags, etc.)

Coffee – decaf and regular, sugar, creamers, sugar substitute, stirrers, decaf tea

Soda in cans
Program Related Needs:
Workshop/class instructors (we're always looking for instructors to offer workshops/classes)
Gazebo Donations:
We always welcome donations of "Garage Sale" items any time of the year.  During the summer months the Gazebo will be open for business.  Your donations help to stock the Gazebo and your donations for items at the Gazebo continue to help the Ninilchik Senior Center!  Thank you!
Fred Meyers Community Rewards Program 
If you have a Fred Meyer rewards card you can designate the Senior Center to receive a contribution every time you earn store points.
Visit https://www.fredmeyer.com/topic/community-rewards-4 and search for Ninilchik Senior Citizens, Inc. or enter our identification number: GP013. Feel free to stop by the office if you need help signing up!
 Amazon Smile
When you sign up with Amazon Smile, Amazon will donate 0.5% of the purchase price of all eligible products to the charitable organization of your choice.  Amazon Smile is a simple and automatic way for you to support the Ninilchik Senior Center at no cost to you. To link your Amazon account to automatically contribute to the center, visit https://smile.amazon.com/ch/52-1323828.